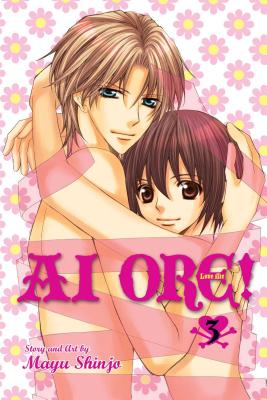 AI Ore!, Vol. 3 (Paperback)
Love Me! (AI Ore! Love Me! #3)
Viz Media, 9781421538402, 300pp.
Publication Date: November 1, 2011
* Individual store prices may vary.
Description
The boy (who looks like a girl) meets girl (who looks like a boy) romance Reads R to L (Japanese Style). Mizuki is the female "prince" of her all-girls school and the lead guitarist in an all-girl rock band. Akira is the male "princess" of his all-boys school and wants to join her band. Love may be on his mind, but romance is difficult when everyone keeps mistaking Mizuki for a boy and Akira for a girl Blaue Rosen is bumped from a gig because Yuya wants his own band to perform instead. Mizuki and her bandmates protest, and Yuya decides he'll let the all-girl band play--but only if he gets a date with Akira.
About the Author
Mayu Shinjo was born on January 26th in the city of Nagasaki. She debuted as a manga artist in 1994 with the title ANATA NO IRO NI SOMARITAI (I Want to be Dyed in Your Color) in the pages of Shojo Comic. She has been a prolific creator with over fifteen titles to her name. Currently, she is absorbed in automoviles and enjoys driving. Her blood type is O.