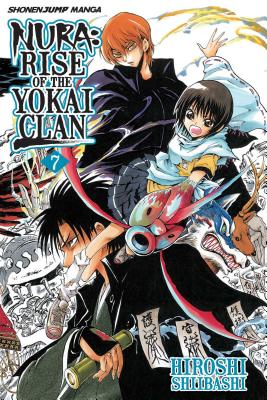 Nura
Rise of the Yokai Clan, Vol. 7
Paperback

* Individual store prices may vary.
Description
A supernatural saga of a 13-year-old by day, and a leader of a demon clan by night—straight from the pages of Weekly Shonen Jump!

While the day belongs to humans, the night belongs to yokai, supernatural creatures that thrive on human fear. Caught between these worlds is Rikuo Nura. He's three-quarters human, but his grandfather is none other than Nurarihyon, the supreme commander of the Nura clan, a powerful yokai consortium. So, Rikuo is an ordinary teenager three quarters of the time, until his yokai blood awakens. Then Rikuo transforms into the future leader of the Nura clan, leading a hundred demons.

Rikuo encounters three siblings from the house of Keikain who are from a generations-long line of yokai hunters. Yura, the sister of the trio, is not sure what to think of Rikuo and seems to be unconvinced as to whether he is friend or foe. But her brothers have other ideas. And the battle that ensues is epic!
VIZ Media LLC, 9781421538976, 192pp.
Publication Date: February 7, 2012
About the Author
Hiroshi Shiibashi debuted in BUSINESS JUMP magazine with Aratama. NURA: RISE OF THE YOKAI CLAN is his breakout hit. He was an assistant to manga artist Hirohiko Araki, the creator of Jojo's Bizarre Adventure. Steel Ball Run by Araki is one of his favorite manga.