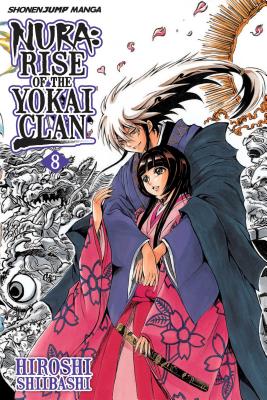 Nura: Rise of the Yokai Clan, Volume 8 (Paperback)
Rise of the Yokai Clan, Volume 8
Viz Media, 9781421538983, 192pp.
Publication Date: April 3, 2012
Description
When night falls, the yokai king will rise. Reads R to L (Japanese Style), for audiences T. While the day belongs to humans, the night belongs to yokai, supernatural creatures that thrive on human fear. Caught between theseworlds is Rikuo Nura. He's three-quarters human, but his grandfather isnone other than Nurarihyon, the supreme commander of the Nura clan, apowerful yokai consortium. So, Rikuo is an ordinary teenager threequarters of the time, until his yokai blood awakens. Then Rikuotransforms into the future leader of the Nura clan, leading a hundreddemons. Echoes of the Past The time is the early 1600s, and the young Nurarihyon has become infatuated with Yo-Hime, a girl with mysterious healing powers. He proposes to her. But then Yo-Hime is abducted by subordinates of the great yokai Hagoromo-Gitsune. And he wants to cut her apart and steal what makes her special Find out how Rikuo's grandfather once had to almost sacrifice everything to save the woman he loved.
About the Author
Hiroshi Shiibashi debuted in Business Jump magazine with Aratama. Nura: Rise of the Yokai Clan is his breakout hit. He was an assistant to manga artist Hirohiko Araki, the creator of Jojo's Bizarre Adventure. Steel Ball Run by Araki is one of his favorite manga.
Advertisement