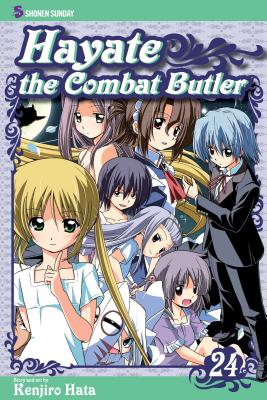 Hayate the Combat Butler, Vol. 24 (Paperback)
VIZ Media LLC, 9781421539072, 192pp.
Publication Date: September 9, 2014
Other Editions of This Title:
Paperback (9/8/2015)
Paperback (2/10/2015)
Paperback (2/9/2016)
Paperback (9/13/2016)
Paperback (2/11/2014)
Paperback (6/15/2010)
Paperback (2/12/2013)
Paperback (9/11/2012)
Paperback (2/7/2012)
Paperback (9/13/2011)
Paperback (3/8/2011)
Paperback (8/11/2009)
Paperback (2/14/2017)
Paperback (11/10/2009)
Paperback (2/12/2008)
Paperback (5/13/2008)
Paperback (8/12/2008)
Paperback (9/14/2010)
Paperback (4/13/2010)
* Individual store prices may vary.
Description
Poor Hayate Ayasaki is responsible for repaying his parents' 150 million yen debt. One Christmas, he meets a girl named Nagi, and after a series of misunderstandings, he somehow ends up working as her butler. Nagi covers for Hayate's debt, but has Hayate dug himself deeper into a different kind of hole? A hilarious tale of butlers, love and battles (?!).

As Hayate's friends celebrate the last night of their big fat Greek vacation, our favorite butler finds himself caught between Scylla and Charybdis. Will he sacrifice Athena's soul…or Nagi's future? Leave it to Nagi to cut the Gordian knot. But the gang has opened a Pandora's box of trouble, which leaves only one way out: an epic monster battle, natch. In this manga, beware of anyone bearing gifts…
About the Author
Without ever receiving any kind of manga award, Kenjiro Hata's first series Umi no Yuusha Lifesavers was published in Shonen Sunday Super. Hayate the Combat Butler is currently serialized in Weekly Shonen Sunday.