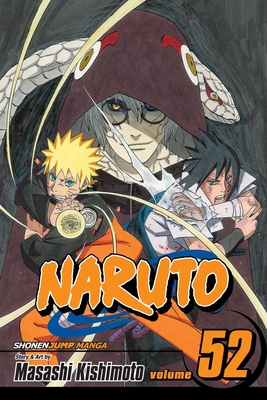 Naruto, V52 (Paperback)
Cell Seven Reunion
Viz Media, 9781421539577, 204pp.
Publication Date: September 6, 2011
Description
A hilarious, touching, action-packed tale of a ninja in training Reads R to L (Japanese Style). Sasuke, Sakura and Naruto finally meet, as the former classmates' complicated past gives way to a violent and unsure future. Naruto realizes he must eventually battle Sasuke one-on-one...to the death But with Sasuke and his dark allies bent on complete destruction, and political intrigue in the villages, will the powerful Allied Shinobi Forces allow the two "friends" to meet in battle?
About the Author
Author/artist Masashi Kishimoto was born in 1974 in rural Okayama Prefecture, Japan. After spending time in art college, he won the Hop Step Award for new manga artists with his manga Karakuri (Mechanism). Kishimoto decided to base his next story on traditional Japanese culture. His first version of Naruto, drawn in 1997, was a one-shot story about fox spirits; his final version, which debuted in Weekly Shonen Jump in 1999, quickly became the most popular ninja manga in Japan.
Advertisement