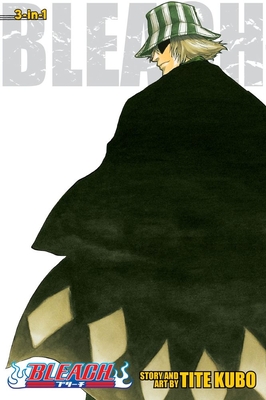 Bleach (3-in-1 Edition), Vol. 2 (Paperback)
Includes vols. 4, 5 & 6
VIZ Media LLC, 9781421539935, 576pp.
Publication Date: August 2, 2011
Other Editions of This Title:
Paperback (6/7/2011)
Paperback (2/5/2013)
Paperback (2/2/2016)
Paperback (5/2/2017)
Paperback (11/1/2016)
Paperback (11/7/2017)
Paperback (11/3/2015)
Paperback (8/2/2016)
Paperback (10/2/2018)
Paperback (5/1/2018)
Paperback (2/7/2017)
Paperback (8/1/2017)
Paperback (10/4/2011)
Paperback (5/3/2016)
* Individual store prices may vary.
Description
The sword-wielding afterlife adventure just got bigger with this collection of Bleach volumes!

Reads R to L (Japanese Style), for audiences T
Containing volumes 4, 5 and 6 of Bleach! A new reality-show craze is sweeping the nation, garnering legions of screaming fans (the majority of them being teenaged girls). But this program comes with a supernatural twist--the host, a media-savvy spiritualist, travels to local hotspots and performs exorcisms, live on national TV! Surly Soul Reaper Ichigo Kurosaki has his doubts about this primetime prima donna, and his assumptions are about to be put to the test--the show is heading straight for his neighborhood! What effect will this unprovoked media presence have on the fragile balance between Earth and the spirit world?
About the Author
Bleach is author Tite Kubo's second title. Kubo made his debut with ZOMBIEPOWDER., a four-volume series for Weekly Shonen Jump. To date, Bleach has been translated into numerous languages and has also inspired an animated TV series that began airing in the U.S. in 2006. Beginning its serialization in 2001, Bleach is still a mainstay in the pages of Weekly Shonen Jump. In 2005, Bleach was awarded the prestigious Shogakukan Manga Award in the shonen (boys) category.