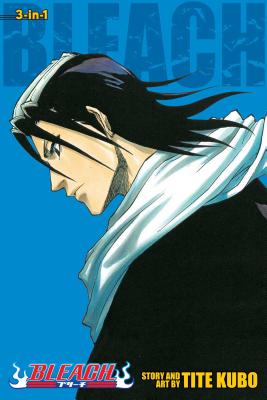 Bleach (3-in-1 Edition), Vol. 3 (Paperback)
Includes vols. 7, 8 & 9
VIZ Media LLC, 9781421539942, 576pp.
Publication Date: October 4, 2011
Other Editions of This Title:
Paperback (6/7/2011)
Paperback (2/5/2013)
Paperback (2/2/2016)
Paperback (5/2/2017)
Paperback (11/1/2016)
Paperback (11/3/2015)
Paperback (11/7/2017)
Paperback (8/2/2016)
Paperback (8/2/2011)
Paperback (10/2/2018)
Paperback (5/1/2018)
Paperback (2/7/2017)
Paperback (8/1/2017)
Paperback (5/3/2016)
* Individual store prices may vary.
Description
The sword-wielding afterlife adventure just got bigger with this collection of Bleach volumes!

Reads R to L (Japanese Style).

Where Hollows Fear to Tread Contains volumes 7, 8 and 9 of Bleach! Rukia Kuchiki, the ex-Soul Reaper responsible for Ichigo's transformation, is on the lam. Her brethren at the Soul Society are quite displeased with the fact that she transferred the powers of a Soul Reaper to a human and have dispatched two of their strongest agents to neutralize the situation. Their mission is twofold: to return Rukia to the Soul Society so that she may pay for her crime and to deal with Ichigo--permanently. But an unlikely third party is standing in their way: Uryû Ishida, the Quincy!
About the Author
Bleach is author Tite Kubo's second title. Kubo made his debut with ZOMBIEPOWDER., a four-volume series for Weekly Shonen Jump. To date, Bleach has been translated into numerous languages and has also inspired an animated TV series that began airing in the U.S. in 2006. Beginning its serialization in 2001, Bleach is still a mainstay in the pages of Weekly Shonen Jump. In 2005, Bleach was awarded the prestigious Shogakukan Manga Award in the shonen (boys) category.