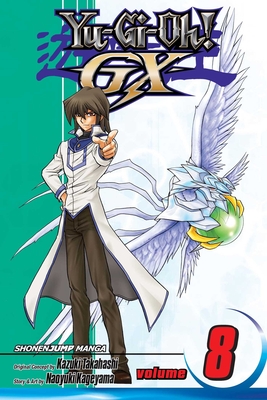 Yu-Gi-Oh! (Paperback)
GX, Vol. 8 (Yu-Gi-Oh! GX #8)
VIZ Media LLC, 9781421539966, 208pp.
Publication Date: January 3, 2012
Other Editions of This Title:
Paperback (11/4/2008)
Paperback (11/6/2007)
Paperback (6/2/2009)
Paperback (8/2/2011)
Paperback (3/1/2011)
Paperback (8/7/2012)
Paperback (10/5/2010)
* Individual store prices may vary.
Description
The Next Generation of Duelist has arrived.

Reads R to L (Japanese Style).

Masked Hero vs. Vision Hero The next series of duels at Duel Academy are about to begin and Reggie Mackenzie's father, possessed by an evil spirit determined to wreak havoc, makes his move. By manipulating members of the group of visiting duelists from America, Mackenzie plants the seeds of destruction on Duel Academy Island. When Jaden takes on his next opponent, will he realize the evil he faces, or will an ancient spirit's scheme to resurrect itself go forward?
About the Author
Naoyuki Kageyama was born April 12, 1969, which makes him an Aries, and is originally from Tokyo, Japan. He is the recipient of an honorable mention for the 1990 Weekly Shonen Jump Hop Step Award for his work Mahou No Trump (Magic Trump) and started drawing Yu-Gi-Oh! GX for Monthly V Jump in February 2006. Kageyama is a baseball fan and his favorite team is the Seibu Lions.