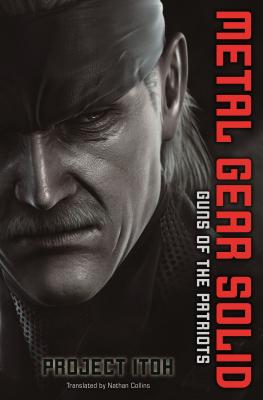 Metal Gear Solid
Guns of the Patriot
Paperback

* Individual store prices may vary.
Description
The Japanese novelization of the bestselling video game!

Solid Snake is a soldier and part of a worldwide nanotechnology network known as the Sons of the Patriots. Time is running out for Snake though, as he will soon succumb to the FOXDIE virus, but not before spreading the disease to nearly everyone he encounters, in essence becoming a walking biological weapon. Snake will need every advantage he can get, as the SOP network is about to be hacked by his old enemy Liquid Ocelot, and whoever controls SOP controls the world.
Haikasoru, 9781421540016, 450pp.
Publication Date: June 19, 2012
About the Author
Keikaku (Project) Itoh was born in Tokyo in 1974. He graduated from Musashino Art University. In 2007, he debuted with Gyakusatsu Kikan (Genocidal Organ) and took first prize in the "Best SF of 2007" in SF Magazine. He is also the author of Metal Gear Solid: Guns of the Patriots, a Japanese-language novel based on the popular video game series. After a long battle with cancer, Itoh passed away in March 2009. Itoh wrote Harmony, a Japan SF and Seiun Award-winning novel in the same setting as Genocidal Organ, while in the hospital receiving treatment for the disease.