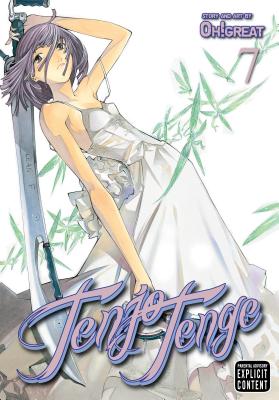 Tenjo Tenge, Volume 7 (Paperback)
Viz Media, 9781421540146, 440pp.
Publication Date: June 19, 2012
Description
By popular demand, an all-new publication of a fan favorite--now 100% faithful to the original--in a value-saving 2-in-1 format with premium color content. Reads R to L (Japanese Style), for audiences rated mature. Knuckle-busting brawls, badass babes, and the toughest student body ever to mix it up under one roof. Welcome to Todo High, where the only rule is: get strong or get schooled. While time passes peacefully, troubles begin boiling over. Bob hesitates over the choice he's made while Aya and Takayanagi feel tormented by their unrequited love. Then, Maya returns to campus with renewed resolve and Soichiro is put into confinement to begin the metamorphosis into the Black Dragon. The paths they've taken all lead to the Sohaku Estate and a confrontation with the "True Demon," Tetsuhito Kagiroi. While the fight goes down, Aya uses her Dragon Eyes to travel to the past. The battles change with time, but they are the paths that connect them all to their dreams.
About the Author
Oh!great began his career as a professional manga creator in 1995. In 1997 his hit series Tenjo Tenge started running in UltraJump magazine, and in 2004 it was adapted into a TV anime. Air Gear, which began serialization in Weekly Shonen Magazine in 2002, received a Kodansha Manga Award in 2006 and was also adapted into a TV anime.
Advertisement