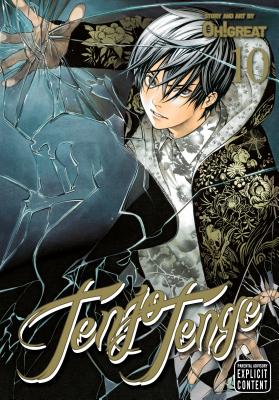 Tenjo Tenge, Volume 10 (Paperback)
Viz Media, 9781421540177, 408pp.
Publication Date: December 18, 2012
Description
By popular demand, an all-new publication of a fan Knuckle-busting brawls, badass babes, and the toughest student body ever to mix it up under one roof. Welcome to Todo High, where the only rule is: get strong or get schooled. Mitsuomi and Bunshichi square off, not to see who dies, but to see who lives The epic clash is more than Masataka can bear to watch, but Mitsuomi's committed to the outcome and offers his brother a terrible choice. Meanwhile, the supernaturally awakened Nagi battles Kabane, the strongest of the Red Feathers. The struggle takes an unexpected turn as red ki envelops Soichiro and he's forced to put all his strength into his fists in order to resist his fate. As Amaterasu slumbers, Tsukuyomi awakens and Susano-o is reborn--the gears of fate thunder on toward a shattering end Reads R to L (Japanese Style) for mature audiences.
About the Author
Oh!great began his career as a professional manga creator in 1995. In 1997 his hit series Tenjo Tenge started running in UltraJump magazine, and in 2004 it was adapted into a TV anime. Air Gear, which began serialization in Weekly Shonen Magazine in 2002, received a Kodansha Manga Award in 2006 and was also adapted into a TV anime.
Advertisement