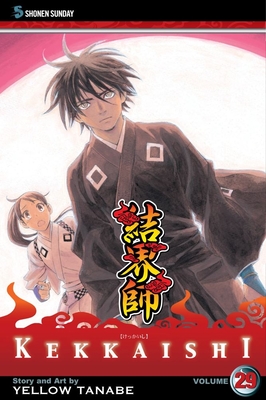 Kekkaishi, Volume 29 (Paperback)
Viz Media, 9781421540351, 192pp.
Publication Date: December 13, 2011
* Individual store prices may vary.
Description
Students by day, demon hunters by night By night, teenager Yoshimori Sumimura is a kekkaishi--a demon-hunter who specializes in creating magical barriers around his prey. By day, Yoshimori's got other demons to battle: an addiction to sweets and a seriously crotchety grandfather Yoshimori's pretty neighbor and childhood friend, Tokine Yukimura, is also a kekkaishi, but their families are feuding over who is the true practitioner of the art. When Soji is gravely wounded, Yoshimori's desire to protect his loved ones from harm leads to a startling transformation. But Yoshimori isn't the only one with an interest in Soji's survival. What role does the mysterious boy play in the ambitions of a powerful foe...? Then, tragedy strikes Karasumori... In the aftermath, restructuring at the Shadow Organization--the group charged with protecting humanity from dark magic--leads to a promotion for Yoshimori's elder brother. And then the boys' absentee mother turns up with a surprising agenda for both Yoshimori and the guardian of Karasumori.
About the Author
Born June 13th in Tokyo. She is a Gemini. Yellow Tanabe's first manga story Yami no Naka (In the Dark) received an honorable mention in Shogakukan's prestigious Shinjin Comic Taisho (Newcomer's Award for Comics). Her first published manga Lost Princess debuted in 2002. Kekkaishi first appeared in 2003, in Weekly Shonen Sunday.