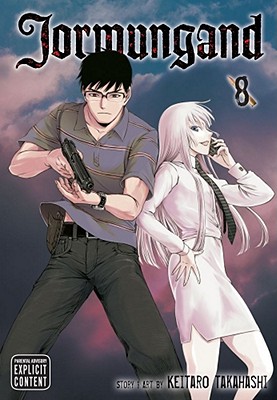 Jormungand, Vol. 8 (Paperback)
Viz Media, 9781421540870, 200pp.
Publication Date: January 10, 2012
Description
Death is their business, and business is good. Reads R to L (Japanese Style). While doing business in Southeast Asia, Koko Hekmatyar's brother, Kasper, runs into some interference from the Japanese SR counterintelligence unit. Koko and her team head to Japan to sort things out, but taking on the rogue Japanese unit on their home turf is just asking for trouble. However, Koko's man Tojo knows the ground and the opposition--he once served in the SR unit under its leader, Yosuke Hinoki, Japan's "One and Only Spymaster." When Koko goes into action, she looks for every advantage she can find, but in this deadly game, is she the one getting played?
About the Author
Keitaro Takahashi was born in Kanagawa Prefecture on September 15. In 2002, he debuted as a mangaka with Ordinary in Kodansha's Monthly Afternoon Season Zokan. In 2006, he began the series Jormungand, in Monthly Sunday GX. He was also the illustrator for the Shueisha SD Bunko publication, Tonari no Dopple-san (The Doppleganger Next Door). His favorite movies include Heat, Miami Vice, The Insider, Gladiator, Swordfish, Formula 51, The Killing Fields and The Usual Suspects. His hobbies include photography, toy guns, and collecting military goods.
Advertisement