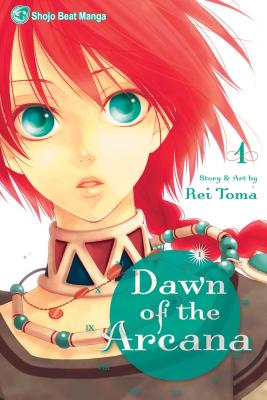 Dawn of the Arcana, Volume 1 (Paperback)
Viz Media, 9781421541044, 192pp.
Publication Date: December 6, 2011
Description
A medieval fantasy where a princess's mysterious power alters her fate Reads R to L (Japanese Style). Princess Nakaba of Senan is forced to marry Prince Caesar of the enemy country Belquat, tantamount to becoming a hostage. While Caesar is pleasing to the eye, he is also selfish and possessive, telling Nakaba outright: "You are my property." With only her attendant Loki at her side, Nakaba must find a way to cope with her hostile surroundings, her fake marriage...and a mysterious power.
About the Author
Born on March 11 in Chiba, Rei Toma debuted in a special edition of Cheese! magazine with Help Me, Dentist in 2005. In addition to publishing a number of short stories, she has produced novel illustrations and character designs for video games. Her current manga series, Dawn of the Arcana, is serialized in Cheese! magazine. Toma enjoys eating ramen and harumaki (egg rolls), listening to rock music, and reading mysteries.
Advertisement