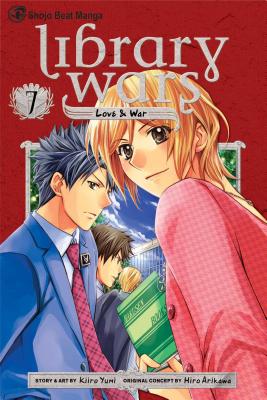 Library Wars (Paperback)
Love & War, Volume 7
Viz Media, 9781421541235, 200pp.
Publication Date: February 7, 2012
* Individual store prices may vary.
Description
You've gotta fight for your right to read Reads R to L (Japanese Style), for audiences T+. In the near future, the federal government creates a committee to rid society of books it deems unsuitable. The libraries vow to protect their collections, and with the help of local governments, form a military group to defend themselves--the Library Forces Hikaru's big brother is working for the enemy, and he wants to reunite with Hikaru. Meanwhile, someone is posting negative reviews on the library's website, and Kasahara intends to fi nd out who. Later, personal issues are set aside when the Library Forces find out about a book burning on their home turf.
About the Author
Kiiro Yumi won the 42nd LaLa Manga Grand Prix Fresh Debut award for her manga Billy Bocchan no Yuutsu (Little Billy's Depression). Her latest series is Toshokan Senso Love&War (Library Wars: Love & War), which runs in LaLa magazine in Japan and is published in English by Viz Media.