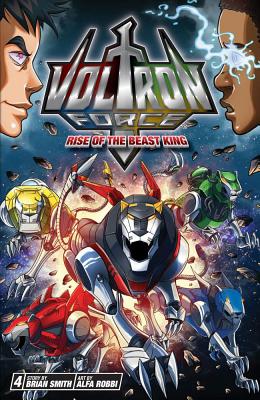 Rise of the Beast King (Paperback)
Viz Media, 9781421541563, 96pp.
Publication Date: November 6, 2012
* Individual store prices may vary.
Description
The beloved '80s classic is back, better than ever, and ready to defend the universe Let's Voltron Reads L to R (Western Style) for all ages. Years ago, Voltron mysteriously disappeared, and the five lions were scattered throughout the universe. Over time, the lions were recovered by the original Voltron Force: Lance, Pidge, Hunk, Princess Allura, and Commander Keith. Now, with the help of three new recruits, Voltron rises again, to defend the universe once more Let's go Voltron Force Return of the Beast King No one knows for certain where Voltron came from, but one ancient legend tells of a sixth part of the mighty robot: a terrible warrior called the Beast King. Asleep for many years, the Beast King has awakened and is determined to rejoin his destructive spirit with the Voltron Lions.
About the Author
Brian Smith is a former Marvel Comics editor. His credits include The Ultimates, Ultimate Spider-Man, Iron Man, Captain America, The Incredible Hulk, and dozens of other comics. Smith is the co-creator/writer behind the New York Times best-selling Graphic Novel The Stuff of Legend, and the writer/artist of all-ages comic The Intrepid EscapeGoat (set to debut on Free Comic Book Day 2011). His writing credits include Finding Nemo: Losing Dory from BOOM! Studios, and SpongeBob Comics from Bongo. Smith is also the illustrator of The Adventures of Daniel Boom AKA LOUDBOY!, named one of The Top 10 Graphic Novels for Youths 2009 by Booklist Online. His illustration clients include Time Out New York Magazine, Nickelodeon, MAD Kids Magazine, Harper Collins, Bongo Comics, Grosset & Dunlap, and American Greetings.
or
Not Currently Available for Direct Purchase