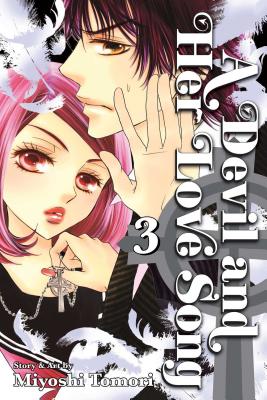 A Devil and Her Love Song, Vol. 3 (Paperback)
VIZ Media LLC, 9781421541662, 208pp.
Publication Date: June 5, 2012
Other Editions of This Title:
Paperback (4/3/2012)
Paperback (8/7/2012)
Paperback (10/2/2012)
Paperback (12/4/2012)
Paperback (2/7/2012)
Paperback (12/3/2013)
Paperback (2/4/2014)
Paperback (8/6/2013)
* Individual store prices may vary.
Description
A moving coming-of-age story that showcases a fierce, dynamic heroine who speaks her mind.

Meet Maria Kawai—she's gorgeous and whip-smart, a girl who seems to have it all. But when she unleashes her sharp tongue, it's no wonder some consider her to be the very devil! Maria's difficult ways even get her kicked out of an elite school, but this particular fall may actually turn out to be her saving grace...

Hana Ibuki, a cheerful soul, waltzes into Maria's life and befriends her right away. She even convinces wary classmates to join Maria's choral group. There's something suspicious about Hana's help, however, especially since misconceptions about Maria occur every time Hana is involved. Is Hana really a friend or actually a foe?
About the Author
Miyoshi Tomori made her debut as a manga creator in 2001, and her previous titles include Hatsukare (First Boyfriend), Tongari Root (Square Root), and Brass Love!!