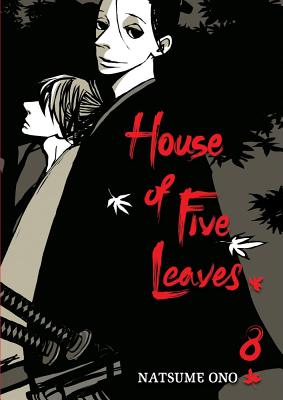 House of Five Leaves, Volume 8 (Paperback)
Viz Media, 9781421542027, 268pp.
Publication Date: September 11, 2012
Description
A many-sided tale of faith and betrayal, drama and intrigue, set in the world of old Edo. Reads R to L (Japanese Style), for audiences rated teen plus. Masterless samurai Akitsu Masanosuke is a skilled and loyal swordsman, but his naive, diffident nature has time and again caused him to be let go by the lords who have employed him. Hungry and desperate, he becomes a bodyguard for Yaichi, the charismatic leader of a gang called "Five Leaves." Although disturbed by the gang's sinister activities, Masa begins to suspect that Yaichi's motivations are not what they seem. And despite his misgivings, the deeper he's drawn into the world of the Five Leaves, the more he finds himself fascinated by these devious, mysterious outlaws. Masanosuke gives Bunnosuke one last piece of advice as his older brother. Rumors about the Five Leaves are spreading around town, leaving the members of the crew plagued with suspicion as to who is responsible. Meanwhile, Yaichi is finally run to ground by Jin, his former boss, at the same time that his past is uncovered by the superintendent Yagi. With the House of Five Leaves coming to an end, will the precious bonds of their friendships survive?
About the Author
Natsume Ono made her professional debut in 2003 with the webcomic La Quinta Camera. Her subsequent works not simple, Ristorante Paradiso, Gente, and House of Five Leaves (Saraiya Goyou) met with both critical and popular acclaim. Both Ristorante Paradiso and House of Five Leaves have been adapted into TV anime series.
Advertisement