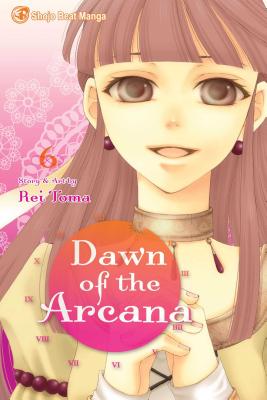 Dawn of the Arcana, Vol. 6
Paperback

* Individual store prices may vary.
Description
A New York Times' bestseller with gorgeous, eye-catching art and a romantic storyline that's addicting to read.

Princess Nakaba of Senan is forced to marry Prince Caesar of the enemy country Belquat, tantamount to becoming a hostage. While Caesar is pleasing to the eye, he is also selfish and possessive, telling Nakaba outright: "You are my property." With only her attendant Loki at her side, Nakaba must find a way to cope with her hostile surroundings, her fake marriage...and a mysterious power!

Princess Nakaba of Senan and Prince Caesar of Belquat only married each other for the sake of peace between their two warring countries, yet the two find themselves drawn to each other even as political forces threaten to tear their world apart. Nakaba's secret ability to see the past and the future proves to be an asset—but things turn deadly when she chooses to use her power to help a friend! Will Caesar still stand by her amidst the ensuing bloodshed?
VIZ Media LLC, 9781421542140, 192pp.
Publication Date: October 2, 2012
About the Author
Rei Toma has been drawing since childhood, but she only began drawing manga because of her graduation project in design school. When she drew a short-story manga,Help Me, Dentist, for the first time, it attracted a publisher's attention and she made her debut right away. Her magnificent art style became popular, and after she debuted as a manga artist, she became known as an illustrator for novels and video game character designs. Her current manga series, Dawn of the Arcana, is her first long-running manga series, and it has been a hit in Japan, selling over a million copies.