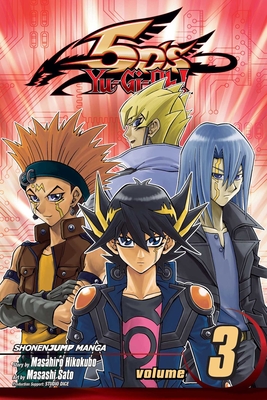 Yu-Gi-Oh! 5D's, Vol. 3
Paperback

* Individual store prices may vary.
Other Editions of This Title:
Paperback (4/2/2013)
Paperback (7/5/2011)
Paperback (11/5/2013)
Paperback (9/2/2014)
Paperback (3/3/2015)
Paperback (10/6/2015)
Paperback (4/5/2016)
Description
Duelists, start your engines!

In New Domino City, the hottest game in town is the Turbo Duel, fought from blazingly fast motorcycles called Duel Runners. On the outskirts of New Domino City, in a district known as Satellite, a new Turbo Duel hero emerges—Yusei Fudo! On his custom-built Duel Runner, Yusei takes on all challengers, fighting for his friends and the future of Satellite!

Yusei has made it into the second round of the D1 Grand Prix, but his friend Sect has made a dark pact with the ominous Skeleton Knight in exchange for the powerful Shadow Card. Yusei learns that he'll need a special card to free Sect, and the only way to get it is to win the tournament!

Card included with the first printing only.
VIZ Media LLC, 9781421542645, 200pp.
Publication Date: October 2, 2012
About the Author
Masahiro Hikokubo is a writer with extensive experience on the Yu-Gi-Oh! animation series. He worked on the original Yu-Gi-Oh! animation as a duel designer and went on to write scripts for Yu-Gi-Oh! GX, Yu-Gi-Oh! The Movie: Pyramid of Light, and now Yu-Gi-Oh! 5D's. He has also worked on the Naruto animation, creating ninjutsu techniques. Hikokubo is a fan of Fist of the North Star and Yasuo Otagaki's Moonlight Mile.

Masashi Sato debuted as a mangaka in Akamaru Jump in the summer of 2004 with the short story Mikakushi Tsumuji. He was also a semi-finalist in the 64th Tezuka Award for his work Guhou Daichi. After working as an assistant to the Yu-Gi-Oh! manga creative team, Masashi Sato is now the lead artist on Yu-Gi-Oh! 5D's. He is a fan of Nobuhiro Watuski's Rurouni Kenshin, and of course, Kazuki Takahashi's Yu-Gi-Oh!