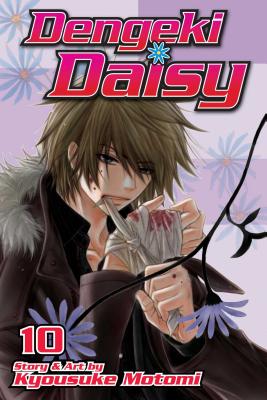 Dengeki Daisy, Volume 10 (Paperback)
Viz Media, 9781421542676, 192pp.
Publication Date: July 3, 2012
Description
Can a mysterious DAISY protect her? Reads R to L (Japanese Style), for audiences rated teen plus. After orphan Teru Kurebayashi loses her beloved older brother, she finds solace in the messages she exchanges with DAISY, an enigmatic figure who can only be reached through the cell phone her brother left her. Meanwhile, mysterious Tasuku Kurosaki always seems to be around whenever Teru needs help... Could DAISY be a lot closer than Teru thinks? A powerful organization that was after Kurosaki's "Jack Frost" virus suddenly falls apart, but Kurosaki can't rest easy since Akira was somehow involved. Furthermore, Akira tells Kurosaki that Teru is still a target Can Kurosaki protect Teru from Akira's menacing schemes?
About the Author
Born on August 1, Kyousuke Motomi debuted in Deluxe Betsucomi with Hetakuso Kyupiddo (No Good Cupid) in 2002. She is the creator of Otokomae! Biizu Kurabu (Handsome! Beads Club), and her latest work Dengeki Daisy is currently being serialized in Betsucomi. Motomi enjoys sleeping, tea ceremonies, and reading Haruki Murakami.
Advertisement