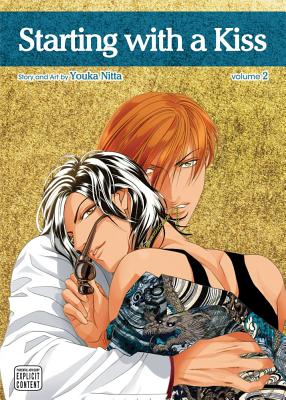 Starting with a Kiss, Vol. 2
Paperback

* Individual store prices may vary.
Description
Toru, the son of a yakuza boss, is sent into exile on a deserted island for his own protection during a gang feud. Fiery and impetuous, he isn't thrilled to be sidelined when he'd rather be in the fight, and is even less thrilled that Mutsumi, son of the gang's second in command, is going with him. The serious, studious Mutsumi is Toru's opposite in every way, and it doesn't take long before the sparks between them begin to fly!

As Tohru and Mutsumi continue their secret affair, Tohru realizes the more they sleep together the more he gives in to the pleasure. And not wanting his lover to play the field, Mutsumi goes out of his way to keep Tohru satisfied. Unfortunately for these two, the very last person they'd want finding out about their secret relationship does. Enraged that Mutsumi would dare lay a hand on his precious charge, Domoto kidnaps Mutsumi with bloody retribution in mind!
SuBLime, 9781421550039, 192pp.
Publication Date: November 13, 2012
About the Author
Youka Nitta made her publishing debut with GROUPIE in 1995 and since then has become one of the most prolific and popular boys' love creators worldwide. Her most well-known series, Embracing Love, has been adapted into both a drama CD as well as an anime series. Born March 8th in Fukui Prefecture, she's a Pisces with a B blood type. Her hobbies include walking and going to the theater. To find out more about Youka Nitta, visit her English-language website at http://nittayouka.com.