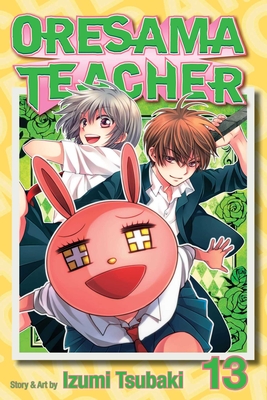 Oresama Teacher, Vol. 13 (Paperback)
VIZ Media LLC, 9781421550817, 200pp.
Publication Date: March 5, 2013
* Individual store prices may vary.
Description
Can high school delinquent Mafuyu clean up her act and still kick some butt?!

Mafuyu is the no-nonsense, take-charge and hard-hitting leader of her high school gang. But when she gets expelled for being a delinquent, her mother, fed up with her daughter's wayward ways, sends Mafuyu to an isolated school far off in the country.

So far every Student Council member who has gone up against Mafuyu and the Public Morals Club has fallen to the team's superior friendship skills. But Kanon Nonoguchi has a plan to turn their strengths against them! She's spreading rumors that Midorigaoka girls are in danger and counting on Super Bun to run to the rescue…and right into her trap!
About the Author
Izumi Tsubaki began drawing manga in her first year of high school. She was soon selected to be in the top ten of Hana to Yume's HMC (Hana to Yume Mangaka Course), and subsequently won Hana to Yume's Big Challenge contest. Her debut title, Chijimete Distance (Shrink the Distance), ran in 2002 in Hana to Yume magazine, issue 17. She is currently working on the manga series Oresama Teacher.