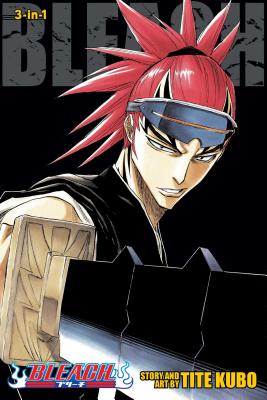 Bleach (3-in-1 Edition), Vol. 4 (Paperback)
Includes vols. 10, 11 & 12
VIZ Media LLC, 9781421554679, 576pp.
Publication Date: February 5, 2013
Other Editions of This Title:
Paperback (6/7/2011)
Paperback (2/2/2016)
Paperback (5/2/2017)
Paperback (11/1/2016)
Paperback (11/7/2017)
Paperback (11/3/2015)
Paperback (8/2/2016)
Paperback (8/2/2011)
Paperback (10/2/2018)
Paperback (5/1/2018)
Paperback (2/7/2017)
Paperback (8/1/2017)
Paperback (10/4/2011)
Paperback (5/3/2016)
* Individual store prices may vary.
Description
Bestselling paranormal action adventure series now available in a bargain omnibus edition

Ichigo Kurosaki never asked for the ability to see ghosts—he was born with the gift. When his family is attacked by a Hollow—a malevolent lost soul—Ichigo becomes a Soul Reaper, dedicating his life to protecting the innocent and helping the tortured spirits themselves find peace. Find out why Tite Kubo's Bleach has become an international manga smash-hit!

Tattoo on the Sky

Ichigo and crew are determined to rescue Rukia from the Soul Society, and with the help of explosives expert Kûkaku, they actually have a chance of making it inside the walls. But the plan hinges on Ichigo getting control of his torrential spiritual energy, and with Rukia awaiting execution, there's no time to waste! And even if they can breach the Soul Society's defenses, there are twelve companies of angry Soul Reapers standing between them and their friend!

Reads R to L (Japanese Style) for teen audiences.
About the Author
Bleach is author Tite Kubo's second title. Kubo made his debut with ZOMBIEPOWDER., a four-volume series for Weekly Shonen Jump. To date, Bleach has been translated into numerous languages and has also inspired an animated TV series that began airing in Japan in 2004. Beginning its serialization in 2001, Bleach is still a mainstay in the pages of Weekly Shonen Jump. In 2005, Bleach was awarded the prestigious Shogakukan Manga Award in the shonen (boys) category.