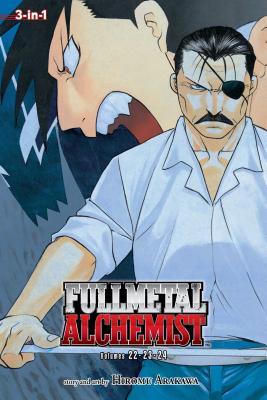 Fullmetal Alchemist (3-in-1 Edition), Vol. 8 (Paperback)
Includes Vols. 22, 23 & 24
VIZ Media LLC, 9781421554969, 576pp.
Publication Date: July 8, 2014
Other Editions of This Title:
Paperback (6/7/2011)
Paperback (7/9/2013)
Paperback (10/4/2011)
Paperback (11/12/2013)
Paperback (8/2/2011)
Paperback (11/11/2014)
* Individual store prices may vary.
Description
In an alchemical ritual gone wrong, Edward Elric lost his arm and his leg, and his brother Alphonse became nothing but a soul in a suit of armor. Equipped with mechanical ""auto-mail"" limbs, Edward becomes a state alchemist, seeking the one thing that can restore his and his brother's bodies...the legendary Philosopher's Stone.

With the Day of Reckoning at hand, war breaks out in Central City. On one side, the homunculi and corrupt military; on the other, the Elric family, Ishbalan refugees, and a ragtag alliance of soldiers loyal to Major General Armstrong of Fort Briggs and Roy Mustang. While Hohenheim confronts the homunculi's "father," Mustang finally learns the truth about Hughes's murder. Will he be consumed by hatred and do the unthinkable?
About the Author
Born in Hokkaido (northern Japan), Hiromu Arakawa first attracted national attention in 1999 with her award-winning manga Stray Dog. Her series Fullmetal Alchemist debuted in 2001 in Square Enix's monthly manga anthology Shonen Gangan.