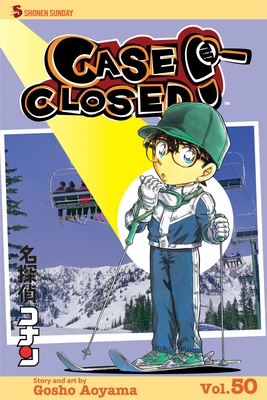 Case Closed, Vol. 50 (Paperback)
VIZ Media LLC, 9781421555072, 200pp.
Publication Date: April 8, 2014
* Individual store prices may vary.
Description
Can Detective Conan crack the case…while trapped in a kid's body?

Jimmy Kudo, the son of a world-renowned mystery writer, is a high school detective who has cracked the most baffling of cases. One day while on a date with his childhood friend Rachel Moore, Jimmy observes a pair of men in black involved in some shady business. The men capture Jimmy and give him a poisonous substance to rub out their witness. But instead of killing him, it turns him into a little kid! Jimmy takes on the pseudonym Conan Edogawa and continues to solve all the difficult cases that come his way. All the while, he's looking for the men in black and the mysterious organization they're with in order to find a cure for his miniature malady.

A reporter is found dead just before an interview with the Junior Detective League. Conan is determined to close the case…but with his teacher watching, he has to do it without letting on that he's smarter than the average first grader!

Then flash back to one of Jimmy's first cases! When a death takes place at a ski resort, everyone believes a legendary ghost has struck again. But two middle schoolers think otherwise: young Jimmy Kudo and young Harley Hartwell! Which boy genius will solve the mystery first?
About the Author
Gosho Aoyama made his debut in 1992 with Chotto Matte (Wait a Minute), which won Shogakukan's prestigious Shinjin Comic Taisho (Newcomer's Award for Comics) and launched his career as a critically acclaimed, top-selling manga artist. In addition to Detective Conan, which won the Shogakukan Manga Award in 2001, Aoyama created the popular manga Yaiba, which won the Shogakukan Manga Award in 1992. Aoyama's manga is greatly influenced by his boyhood love for mystery, adventure and baseball, and he has cited the tales of Arsene Lupin and Sherlock Holmes and the samurai films of Akira Kurosawa as some of his childhood favorites.