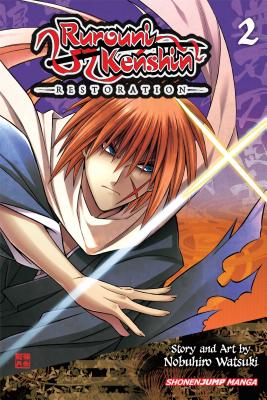 Rurouni Kenshin: Restoration, Volume 2 (Paperback)
Restoration, Volume 2
Viz Media, 9781421555706, 207pp.
Publication Date: January 7, 2014
Description
During the violent upheaval of the Bakumatsu era, Hitokiri Battosai was a feared and ruthless assassin. But now that the Meiji Restoration has begun to heal the wounds of civil war, Battosai has taken up a new name...and a new calling He is now Himura Kenshin, a rurouni wanderer who has vowed to only draw his sword to protect those in need. But now a recent enemy has recruited a ruthless assassin to bring down Kenshin and steal the Kamiya dojo Can Kenshin maintain his oath to never shed blood again and protect his new friends?
About the Author
Nobuhiro Watsuki earned international accolades for his first major manga series, Rurouni Kenshin, about a wandering swordsman in Meiji Era Japan. Serialized in Japan's Weekly Shonen Jump from 1994 to 1999, Rurouni Kenshin quickly became a worldwide sensation, inspiring a spin-off short story ("Yahiko no Sakabato"), an animated TV series, and several animated movies. Watsuki's latest series, Buso Renkin, also available in English from VIZ Media, began publication in Weekly Shonen Jump in June 2003.
Advertisement