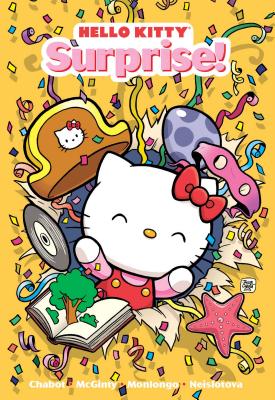 Hello Kitty
Surprise!
Paperback

* Individual store prices may vary.
Description
The Hello Kitty brand touches every part of a girl's life with on-trend product, and touches every part of popular culture—from fashion to celebrity to art. It is a true lifestyle brand. VIZ Media's wordless comic series is the first of its kind.

Hello Kitty and her friends are off on adventures near and far!

What's that? Who's there? It's a surprise!

Expect the unexpected! A day at the beach is more than just fun in the sun. A mysterious egg holds a tiny secret. Mama and Papa have a few secrets of their own. And a quiet afternoon with a good book is more enchanting than Hello Kitty ever could have imagined!

Plus, prepare to be amazed by Anastassia Neislotova's tales of wonder!
VIZ Media - Children's, 9781421558806, 64pp.
Publication Date: April 1, 2014
About the Author
Jorge Monlongo makes comic books, editorial and children's illustrations, video game designs and paints on canvas and walls. He combines traditional and digital techniques to create worlds in beautiful colors that usually hide terrible secrets. You can see his works in the press (El País, Muy interesante, Rolling Stone) and read his comic book series, Mameshiba, published by VIZ Media in the USA.

Giovanni Castro was born in Colombia, studied art there, and now lives and works in Barcelona, Spain.

Ian McGinty lives in Savannah, Georgia, and also parts of the universe! Also, Earth. When he isn't drawing comics and rad pictures of octopuses (octopi?), he's laughing at funny-looking dogs and making low-carb burritos! Ian draws stuff for Viz Media, Top Shelf Productions, BOOM! Studios, Zenescope and many more cool folk! But he cannot draw garbage trucks for some reason.

Jacob Chabot is a New York City-based cartoonist and illustrator. His comics have appeared in publications such as Nickelodeon Magazine, Mad Magazine, Spongebob Comics, and various Marvel titles. He also illustrated Voltron Force: Shelter from the Storm and Voltron Force: True Colors for VIZ Media. His comic The Mighty Skullboy Army is published through Dark Horse and in 2008 was nominated for an Eisner Award for Best Book for Teens. More examples of Jacob's work can be found at www.beetlebugcomics.com.