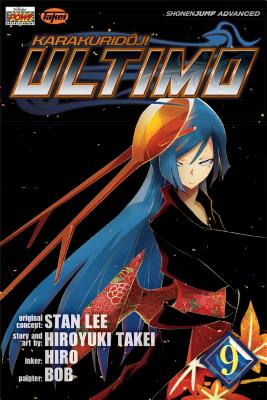 Ultimo, Volume 9 (Paperback)
Viz Media, 9781421558844, 201pp.
Publication Date: November 5, 2013
Description
An unprecedented east and west storytelling collaboration from famed comics legend Stan Lee and Shaman King-creator Hiroyuki Takei. Ultimo and Vice are Karakuri Doji, the mechanical embodiment of pure good and pure evil, devoid of human emotions that can cloud one's judgment. Their purpose: to battle to the death to prove once and for all whether good or evil is the most powerful force in the universe. Yamato decides that the only way to return his life to normal is to defeat the dastardly puppet master Dunstan, and to do that he'll need all the doji on his side. Unfortunately, he hasn't quite figured out yet what is good and what is evil Memories from past lives reveal centuries-long love-hate relationships between doji and their masters--both good and evil Untangling the threads is a battle in itself... Reads Reads R to L (Japanese Style) for teen plus audiences.
About the Author
Unconventional author/artist Hiroyuki Takei began his career by winning the Osamu Tezuka Cultural Prize (named after the famous artist of the same name). After working as an assistant to famed artist Nobuhiro Watsuki, Takei debuted in Weekly Shonen Jump in 1997 with Butsu Zone, an action series based on Buddhist mythology. His multicultural adventure manga Shaman King, which debuted in 1998, became a hit and was adapted into an anime TV series. His new series Ultimo (Karakuri DAji Ultimo) is currently being serialized in the U.S. in SHONEN JUMP. Takei lists Osamu Tezuka, American comics and robot anime among his many influences."
Advertisement