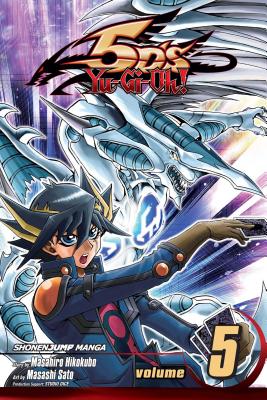 Yu-Gi-Oh! 5d's, Volume 5 [With Trading Card] (Paperback)
Viz Media, 9781421558882, 198pp.
Publication Date: November 5, 2013
Description
In New Domino City, the hottest game in town is the Turbo Duel, fought from blazingly fast motorcycles called Duel Runners. On the outskirts of New Domino City, in a district known as Satellite, a new Turbo Duel hero emerges--Yusei Fudo On his custom-built Duel Runner, Yusei takes on all challengers, fighting for his friends and the future of Satellite The D1 Grand Prix thunders on through the second stage as Yusei fights to save his friend Sect from the clutches of the Skeleton Knight's curse. But can Yusei's loyalty overcome Sect's thirst for power? Card included with the first printing only. Reads R to L (Japanese Style) for teen audiences.
About the Author
Masahiro Hikokubo is a writer with extensive experience on the YuGiOh! animation series. He worked on the original YuGiOh! animation as a duel designer and went on to write scripts for YuGiOh! GX, YuGiOh! The Movie: Pyramid of Light, and now YuGiOh! 5D's. He has also worked on the Naruto animation, creating ninjutsu techniques. Hikokubo is a fan of Fist of the North Star and Yasuo Otagaki's Moonlight Mile.
Advertisement