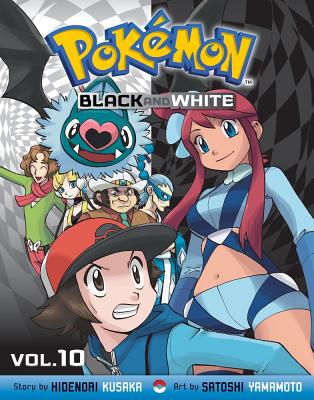 Pokemon Black and White, Volume 10 (Paperback)
Viz Media, 9781421558943, 96pp.
Publication Date: June 4, 2013
Description
Awesome adventures inspired by the best-selling Pokemon Black Version and Pokemon White Version video games Meet Pokemon Trainers Black and White His entire life, Black has dreamed of winning the Pokemon League Now he embarks on a journey to explore the Unova region and fill a Pokedex for Professor Juniper. White has an exciting career as the Trainer of a talented troupe of performing Pokemon. She dreams of making her Tepig Gigi a star Together, Black and White continue on their journey... What surprising new Pokemon--and people--will they meet next? After a fierce battle with Black, Gym Leader Clay reveals a dangerous secret. Now Black must prove himself to the other Unova Gym Leaders so he can join their team to fight a common enemy--an evil organization that might jeopardize the Pokemon League Championship itself Will Black earn the trust of the Unova Gym Leaders by...ringing a bell? Plus, meet Krokorok, Tirtouga, Palpitoad, Excadrill, Pidove and Swoobat Reads R to L (Japanese Style) for all ages.
Advertisement