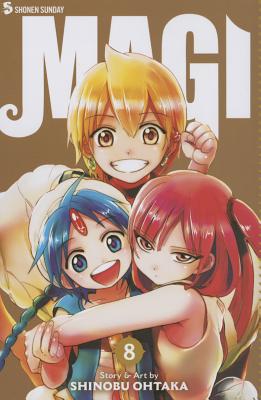 Magi (Paperback)
The Labyrinth of Magic, Vol. 8
VIZ Media LLC, 9781421559582, 208pp.
Publication Date: October 14, 2014
Other Editions of This Title:
Paperback (12/9/2014)
Paperback (6/10/2014)
Paperback (12/10/2013)
Paperback (8/12/2014)
Paperback (4/8/2014)
* Individual store prices may vary.
Description
Deep within the desert lie the mysterious Dungeons, vast stores of riches there for the taking by anyone lucky enough to find them and brave enough to venture into the depths from where few have ever returned. Plucky young adventurer Aladdin means to find the Dungeons and their riches, but Aladdin may be just as mysterious as the treasures he seeks.

Alibaba's old friend Cassim has fallen to evil and transformed into a Dark Djinn that threatens everyone in Balbadd. The battle rages, and even Sinbad struggles to hold his ground as he fights alongside Alibaba against Cassim and Judar. And on the sidelines, even more enemies wait for their chance to pounce. Without Aladdin and Ugo, the forces of darkness seem to have the upper hand...