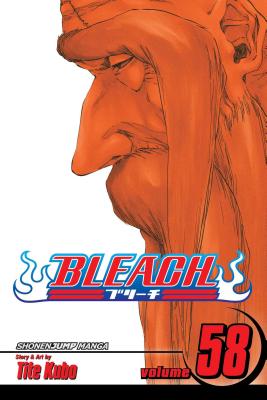 Bleach, Volume 58 (Paperback)
Viz Media, 9781421561356, 192pp.
Publication Date: October 1, 2013
Description
A paranormal action-adventure about sword-wielding guardians of the afterlife Ichigo Kurosaki never asked for the ability to see ghosts--he was born with the gift. When his family is attacked by a Hollow--a malevolent lost soul--Ichigo becomes a Soul Reaper, dedicating his life to protecting the innocent and helping the tortured spirits themselves find peace. Find out why Tite Kubo's Bleach has become an international manga smash-hit A mysterious group calling themselves the Vandenreich launches a simultaneous attack against the Soul Society and Ichigo in the World of the Living. After invading the Soul Society, the Vandenreich's strongest warriors launch a relentless attack as the Soul Reaper captains start falling one by one. It will be up to General Captain Yamamoto unleashes to defeat the Vandenreich's king and save the Soul Society Reads R to L (Japanese Style) for teen audiences.
About the Author
Bleach is author Tite Kubo's second title. Kubo made his debut with ZOMBIEPOWDER., a four-volume series for Weekly Shonen Jump. To date, Bleach has been translated into numerous languages and has also inspired an animated TV series that began airing in Japan in 2004. Beginning its serialization in 2001, Bleach is still a mainstay in the pages of Weekly Shonen Jump. In 2005, Bleach was awarded the prestigious Shogakukan Manga Award in the shonen (boys) category.
Advertisement