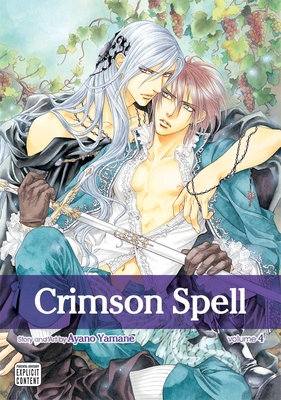 Crimson Spell, Vol. 4 (Paperback)
SuBLime, 9781421564241, 192pp.
Publication Date: June 10, 2014
* Individual store prices may vary.
Description
A cursed prince turns into a raging demon whose lust can only be calmed by the skillful hands of one powerful sorcerer!

Prince Vald is struck by a curse that turns him into a demon! He seeks out a powerful sorcerer named Halvir to help break the curse, and the two go on an epic journey full of danger—and lust—in search of clues to break the young prince's curse!

The key to discovering the secret behind Vald's cursed sword is somewhere in the empire of Zenedoura. With information obtained from Limris—new companion and former Consul of the Empire—Prince Vald decides to head there to see what he can find. Along the way, in order to save a gravely wounded Rulca, he deliberately chooses to turn into his demon self! Vald's uncharacteristic recklessness provokes a tirade from Halvir, who then leaves the group without a word...
About the Author
International best-selling boys' love mangaka Ayano Yamane is the creator of A Foreign Love Affair and the Finder series. A native of Hyogo Prefecture, she was born a Sagittarius on December 18th and has an A blood type. You can find out more about Ayano Yamane via her Twitter account, @yamaneayano, or her website, www.yamaneayano.com.