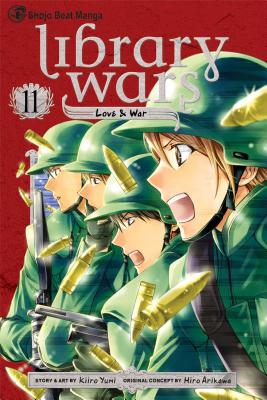 Library Wars (Paperback)
Love & War, Vol. 11
VIZ Media LLC, 9781421564319, 192pp.
Publication Date: April 1, 2014
Other Editions of This Title:
Paperback (4/5/2016)
Paperback (10/6/2015)
Paperback (4/2/2013)
Paperback (9/2/2014)
Paperback (2/7/2012)
Paperback (9/4/2012)
Paperback (8/6/2013)
* Individual store prices may vary.
Description
In the near future, the federal government creates a committee to rid society of books it deems unsuitable. The libraries vow to protect their collections, and with the help of local governments, form a military group to defend themselves--the Library Forces!

Fighting censorship at her hometown art museum, Iku Kasahara and her fellow Library Forces team members are involved in a fierce skirmish in which several ranking officers are severely injured. The damage is far reaching, causing a rift in the Library Forces management that makes Iku question her place in the organization. In the midst of this controversy, Iku's relationship with her direct supervisor, Dojo, grows more intimate when a long-discussed tea-date begins to sound more like a romantic liaison!
About the Author
Kiiro Yumi won the 42nd LaLa Manga Grand Prix Fresh Debut award for her manga Billy Bocchan no Yuutsu (Little Billy's Depression). Her latest series is Toshokan Senso Love&War (Library Wars: Love & War), which runs in LaLa magazine in Japan and is published in English by VIZ Media.

Hiro Arikawa won the 10th Dengeki Novel Prize for her work Shio no Machi: Wish on My Precious in 2003 and debuted with the same novel in 2004. Of her many works, Arikawa is best known for the Library Wars series and her Jieitai Sanbusaku trilogy which consists of Sora no Naka (In the Sky), Umi no Soko (The Bottom of the Sea), and Shio no Machi (City of Salt).