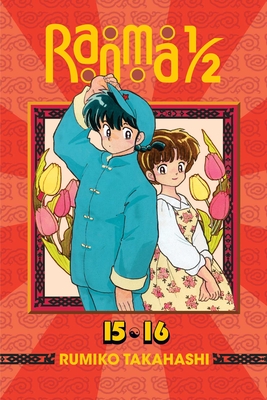 Ranma 1/2 (2-in-1 Edition), Vol. 8 (Paperback)
Includes Volumes 15 & 16
VIZ Media LLC, 9781421566214, 368pp.
Publication Date: May 5, 2015
Other Editions of This Title:
Paperback (1/6/2015)
Paperback (3/10/2015)
Paperback (1/10/2017)
Paperback (9/8/2015)
Paperback (7/8/2014)
Paperback (7/14/2015)
Paperback (9/2/2014)
Paperback (11/4/2014)
Paperback (1/12/2016)
* Individual store prices may vary.
Description
A remastered 2-in-1 edition of the all-time classic hit from one of Japan's most beloved creators, available for the first time in a format faithful to the original work. One day, teenage martial artist Ranma Saotome went on a training mission with his father and ended up taking a dive into some cursed springs at a legendary training ground in China. Now, every time he's splashed with cold water, he changes into a girl. His father, Genma, changes into a panda! What's a half-guy, half-girl to do?

Ranma wants it, four martial artist pork buns from China want it, and especially Genma wants it… Described by a reluctant Ranma as the "seal" that keeps something terrible from happening, what is the "Dragon's Whisker"? Once that plot's tied up, the whole gang heads for a hot springs obstacle course. And then, a martial arts eating contest guaranteed to make your stomach flip!
About the Author
The spotlight on Rumiko Takahashi's career began in 1978 when she won an honorable mention in Shogakukan's annual New Comic Artist Contest for Those Selfish Aliens. Later that same year, her boy-meets-alien comedy series, Urusei Yatsura, was serialized in Weekly Shonen Sunday. This phenomenally successful manga series was adapted into anime format and spawned a TV series and half a dozen theatrical-release movies, all incredibly popular in their own right. Takahashi followed up the success of her debut series with one blockbuster hit after another--Maison Ikkoku ran from 1980 to 1987, Ranma 1/2 from 1987 to 1996, and Inuyasha from 1996 to 2008. Other notable works include Mermaid Saga, Rumic Theater, and One-Pound Gospel. Takahashi won the Shogakukan Manga Award twice in her career, once for Urusei Yatsura in 1981 and the second time for Inuyasha in 2002. A majority of the Takahashi canon has been adapted into other media such as anime, live-action TV series, and film."