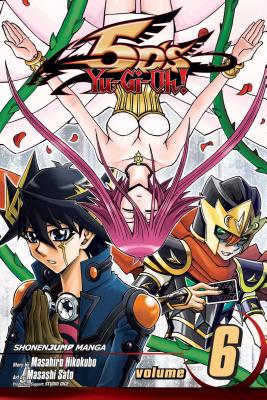 Yu-Gi-Oh! 5D's, Vol. 6 (Paperback)
VIZ Media LLC, 9781421569192, 208pp.
Publication Date: September 2, 2014
Other Editions of This Title:
Paperback (7/5/2011)
Paperback (11/5/2013)
Paperback (4/2/2013)
Paperback (10/6/2015)
Paperback (4/5/2016)
Paperback (3/3/2015)
Paperback (10/2/2012)
* Individual store prices may vary.
Description
In New Domino City, the hottest game in town is the Turbo Duel, fought from blazingly fast motorcycles called Duel Runners. On the outskirts of New Domino City, in a district known as Satellite, a new Turbo Duel hero emerges--Yusei Fudo! On his custom-built Duel Runner, Yusei takes on all challengers, fighting for his friends and the future of Satellite!

Card included with the first printing only.

Goodwin's plan to revive the Ultimate God moves forward as he sets up a match between Akiza and Sect that mirrors a fateful duel five thousand years ago! Yusei has gathered all the Star Tickets and entered the Duel Gate. Even if he can find his friend Sect, he still has to get past the Skeleton Knight, and if he does, will he have the strength to face the Ultimate God?
About the Author
Masahiro Hikokubo is a writer with extensive experience on the YuGiOh! animation series. He worked on the original YuGiOh! animation as a duel designer and went on to write scripts for YuGiOh! GX, YuGiOh! The Movie: Pyramid of Light, and now YuGiOh! 5D's. He has also worked on the Naruto animation, creating ninjutsu techniques. Hikokubo is a fan of Fist of the North Star and Yasuo Otagaki's Moonlight Mile.