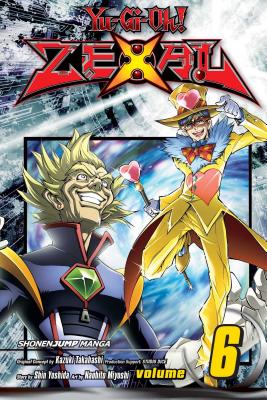 Yu-Gi-Oh! Zexal, Vol. 6 (Paperback)
Viz Media, 9781421576923, 200pp.
Publication Date: February 3, 2015
Other Editions of This Title:
Paperback (3/1/2016)
Paperback (9/1/2015)
Paperback (1/7/2014)
Paperback (7/1/2014)
* Individual store prices may vary.
Description
In a futuristic city, augmented reality Duels are all the rage. Duelists, using devices called D-Gazers, can interact with their environment and their opponents as never before. With more awesome monsters and unbelievable cards, the future of Yu-Gi-Oh starts right here Kaito and Shark find themselves in an epic duel with Shadow. The fallout from this battle leads to some surprising revelations about the Numbers War. Luna describes Dr. Faker's plans and the connection with Kaito's brother, Haruto. They also learn that Yuma's friend Astral originally came to destroy the world, and that Dr. Faker isn't actually dead They'll have to take their battle straight to Mr. Heartland to get to the bottom of his evil schemes.