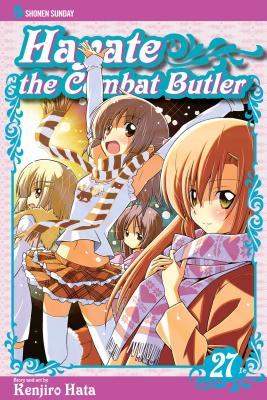 Hayate the Combat Butler, Vol. 27 (Paperback)
VIZ Media LLC, 9781421577883, 192pp.
Publication Date: February 9, 2016
Other Editions of This Title:
Paperback (9/9/2014)
Paperback (9/8/2015)
Paperback (2/10/2015)
Paperback (9/13/2016)
Paperback (2/11/2014)
Paperback (6/15/2010)
Paperback (2/12/2013)
Paperback (9/11/2012)
Paperback (2/7/2012)
Paperback (9/13/2011)
Paperback (3/8/2011)
Paperback (8/11/2009)
Paperback (2/14/2017)
Paperback (11/10/2009)
Paperback (2/12/2008)
Paperback (5/13/2008)
Paperback (8/12/2008)
Paperback (9/14/2010)
Paperback (4/13/2010)
* Individual store prices may vary.
Description
Poor Hayate Ayasaki is responsible for repaying his parents' 150 million yen debt. One Christmas, he meets a girl named Nagi, and after a series of misunderstandings, he somehow ends up working as her butler. Nagi covers for Hayate's debt, but has Hayate dug himself deeper into a different kind of hole? A hilarious tale of butlers, love and battles (?!).

Whip out your screentone and your T-square, because this manga just leveled up in self-referential humor. Nagi's latest plan to make back her fortune: become a superstar manga artist! While all the cartoonists reading this cover text laugh bitterly, the poor little rich girl dives into the manga lifestyle. But will assisting a pro and working a table at a doujinshi convention start Nagi on an artistic career, or will she be forced to face the fact that her pet manga project is, to put it delicately, terrible beyond all measure?
About the Author
Without ever receiving any kind of manga award, Kenjiro Hata's first series Umi no Yuusha Lifesavers was published in Shonen Sunday Super. Hayate the Combat Butler is currently serialized in Weekly Shonen Sunday.