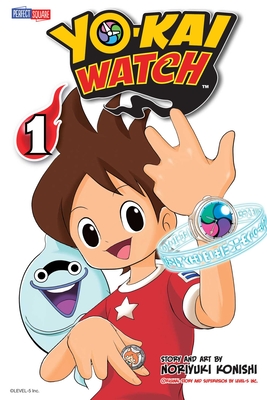 YO-KAI WATCH, Vol. 1 (Paperback)
VIZ Media - Children's, 9781421582511, 192pp.
Publication Date: November 3, 2015
Other Editions of This Title:
Paperback (5/12/2020)
Paperback (1/14/2020)
Paperback (1/8/2019)
Paperback (9/10/2019)
Paperback (5/14/2019)
Paperback (11/3/2015)
Paperback (3/7/2017)
Paperback (3/1/2016)
* Individual store prices may vary.
Description
Nathan Adams is just an average kid until the mysterious Whisper gives him a device that allows him to see what others cannot, Yo-kai of all shapes and forms! Now, armed with the Yo-kai Watch, Nathan, Whisper and their new invisible friends embark on an all-new supernatural adventure!

Yo-kai, inspired by the yokai of Japanese folklore, are not ghosts or monsters or creatures. They can't be seen by the human eye, but they're everywhere, and whether they're phantoms or everyday objects discovering their higher purpose, Yo-kai personalities are distinctly humanlike!

While playing deep in the mountains, a yokai butler named Whisper gives Nathan the Yokai Watch, which Nathan uses to help his spooky new friends with their problems! Thus begins this ghastly laugh-out-loud comedy!
About the Author
Noriyuki Konishi hails from Shimabara City in Nagasaki Prefecture, Japan. He debuted with the one-shot E-CUFF in Monthly Shonen Jump Original in 1997. He is known for writing manga adaptations of AM Driver and Mushiking: King of the Beetles, along with Saiyuki Hiro Go-Ku Den!, Chohenshin Gag Gaiden!! Card Warrior Kamen Riders, Go-Go-Go Saiyuki: Shin Gokuden and more.