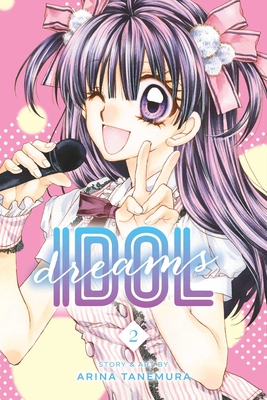 Idol Dreams, Vol. 2 (Paperback)
VIZ Media LLC, 9781421582573, 184pp.
Publication Date: March 1, 2016
* Individual store prices may vary.
Description
At age 31, office worker Chikage Deguchi feels she missed her chances at love and success. When word gets out that she's a virgin, Chikage is humiliated and wishes she could turn back time to when she was still young and popular. She takes an experimental drug that changes her appearance back to when she was 15. Now Chikage is determined to pursue everything she missed out on all those years ago—including becoming a star!

Chikage has debuted as the 15-year-old Akari, but now she must compete with Yuko to have Hibiki produce her CD. Tokita, the only one who knows Chikage's secret, continues to help her while trying to atone for the past...
About the Author
Arina Tanemura began her manga career in 1996 when her short stories debuted in Ribon magazine. She gained fame with the 1997 publication of I•O•N, and ever since her debut Tanemura has been a major force in shojo manga with popular series Phantom Thief Jeanne, Time Stranger Kyoko, Full Moon, and The Gentlemen's Alliance †. Both Phantom Thief Jeanne and Full Moon have been adapted into animated TV series.