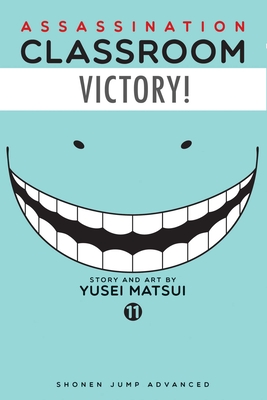 Assassination Classroom, Vol. 11 (Paperback)
VIZ Media LLC, 9781421583235, 208pp.
Publication Date: August 2, 2016
* Individual store prices may vary.
Description
Ever caught yourself screaming, "I could just kill that teacher"? What would it take to justify such antisocial behavior and weeks of detention? Especially if he's the best teacher you've ever had? Giving you an "F" on a quiz? Mispronouncing your name during roll call...again? How about blowing up the moon and threatening to do the same to Mother Earth—unless you take him out first?! Plus a reward of a cool 100 million from the Ministry of Defense! Okay, now that you're committed... How are you going to pull this off? What does your pathetic class of misfits have in their arsenal to combat Teach's alien technology, bizarre powers and...tentacles?!

3-E student Isogai breaks the school rules by working part-time to help support his family. When Gakushu and rest of the Big Four students find out, they use his secret as leverage to force 3-E to participate in a bizarre sports-day competition. Soon it's time for the school's midterm competition as well, but when some 3-E students accidentally injure the elderly owner of a day care/after-school program, Koro Sensei forbids them from studying and orders them to replace him until he recovers! Assassination is one thing, but babysitting little kids…?! And then, our friends rescue a cat.
About the Author
Yusei Matsui was born on the last day of January in Saitama Prefecture, Japan. He has been drawing manga since he began elementary school. Some of his favorite manga series are Bobobo-bo Bo-bobo, JoJo's Bizarre Adventure, and Ultimate Muscle. Matsui learned his trade working as an assistant to manga artist Yoshio Sawai, creator of Bobobo-bo Bo-bobo. In 2005, Matsui debuted his original manga Neuro: Supernatural Detective in Weekly Shonen Jump. In 2007, Neuro was adapted into an anime. In 2012, Assassination Classroom began serialization in Weekly Shonen Jump.