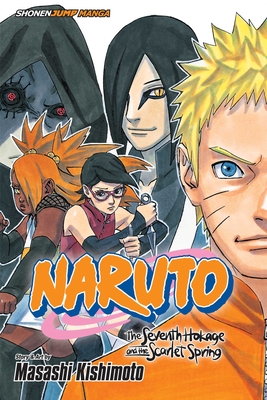 Naruto
The Seventh Hokage and the Scarlet Spring
Paperback

* Individual store prices may vary.
Description
Naruto was a young shinobi with an incorrigible knack for mischief. Then he channeled that energy into learning amazing ninja techniques and saving the world! Now Naruto has achieved his dream of becoming the greatest ninja in the village, and his face sits atop the Hokage monument. But new troubles may be bubbling up in the shinobi world…

In the years since the great ninja war, peace has bloomed in the ninja world, and a new generation has begun to take root. Naruto's work as Hokage seems to be pretty mundane, but his son, Boruto, is constantly demanding attention. Luckily for Naruto, he can make clones of himself to babysit his son. But Sasuke's daughter, Sarada, could be the target of a mysterious figure who has connections to the Uchiha clan!
VIZ Media LLC, 9781421584935, 216pp.
Publication Date: January 5, 2016
About the Author
Author/artist Masashi Kishimoto was born in 1974 in rural Okayama Prefecture, Japan. Like many kids, he was first inspired to become a manga artist in elementary school when he read Dragon Ball. After spending time in art college, he won the Hop Step Award for new manga artists with his story Karakuri. After considering various genres for his next project, Kishimoto decided on a story steeped in traditional Japanese culture. His first version of Naruto, drawn in 1997, was a one-shot story about fox spirits; his final version, which debuted in Weekly Shonen Jump in 1999, quickly became the most popular ninja manga in the world. The series would also spawn multiple anime series, movies, novels, video games and more. Having concluded the series in late 2014, Masashi Kishimoto has kept himself busy this year with the side story Naruto: The Seventh Hokage and the Scarlet Spring and writing the story for the latest Naruto movie, Boruto: Naruto the Movie, both of which will focus on the title character's son, Boruto.