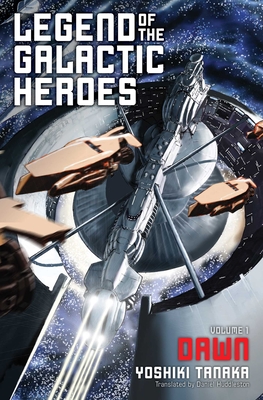 Legend of the Galactic Heroes, Vol. 1 (Paperback)
Dawn
Haikasoru, 9781421584942, 304pp.
Publication Date: March 8, 2016
Other Editions of This Title:
Paperback (7/19/2016)
Paperback (11/15/2016)
* Individual store prices may vary.
Description
"The Golden Brat" Reinhard von Lohengramm, a military prodigy and admiral of the Galactic Empire, has ambitions beyond protecting the borders or even defeating the Empire's enemies. He seeks to overthrow the old order and become a truly absolute—yet benevolent—dictator. His rival, the humble Yang Wen-li of the Free Planets Alliance, wishes to preserve democracy even if he must sacrifice his political ideals to defeat the Empire. Their political and military battles play out over a galactic chessboard in an epic saga fifteen centuries in the making!
About the Author
Yoshiki Tanaka was born in 1952 in Kumamoto Prefecture and completed a doctorate in literature at Gakushuin University. Tanaka won the Gen'eijo (a mystery magazine) New Writer Award with his debut story "Midori no Sogen ni…" (On the Green Field…) in 1978, and then started his career as a science fiction and fantasy writer. Legend of the Galactic Heroes: Dawn, which translates the European wars of the nineteenth century to an interstellar setting, won the Seiun Award for best science fiction novel in 1987. Tanaka's other works include the fantasy series The Heroic Legend of Arslan and many other science fiction, fantasy, historical, and mystery novels and stories.