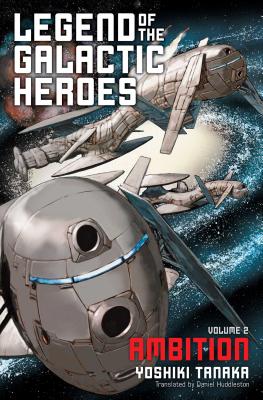 Legend of the Galactic Heroes, Vol. 2 (Paperback)
Ambition
Haikasoru, 9781421584959, 288pp.
Publication Date: July 19, 2016
Other Editions of This Title:
Paperback (3/8/2016)
Paperback (11/15/2016)
* Individual store prices may vary.
Description
In the thirty-sixth century humanity has conquered the galaxy and colonized countless star systems. The Galactic Empire, modeled along Prussian lines, and the democratic Free Planets Alliance are at war, and the fate of every human being in the universe hangs in the balance. This classic Japanese space opera, adapted into a legendary anime, is finally available in English for the first time.

After a coup d'état erupts in the Free Planets Alliance, military strategist Yang Wen-li is ordered to use his tactical wizardry to put down the rebellion, but the ringleader holding the capital is someone he once trusted deeply. Meanwhile, in the Galactic Empire, Reinhard will soon face a new trial, as in the wake of the emperor's death he stands amidst an intensifying power struggle among the aristocracy. The unbeatable magician and the unstoppable genius: the battles these heroes wage will send shock waves across the galaxy!
About the Author
Yoshiki Tanaka was born in 1952 in Kumamoto Prefecture and completed a doctorate in literature at Gakushuin University. Tanaka won the Gen'eijo (a mystery magazine) New Writer Award with his debut story "Midori no Sogen ni…" (On the Green Field…) in 1978, and then started his career as a science fiction and fantasy writer. Legend of the Galactic Heroes: Dawn, which translates the European wars of the nineteenth century to an interstellar setting, won the Seiun Award for best science fiction novel in 1987. Tanaka's other works include the fantasy series The Heroic Legend of Arslan and many other science fiction, fantasy, historical, and mystery novels and stories.