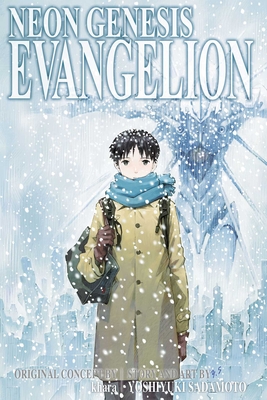 Neon Genesis Evangelion 2-in-1 Edition, Vol. 5 (Paperback)
Includes vols. 13 & 14 (Neon Genesis Evangelion 3-in-1 Edition #5)
VIZ Media LLC, 9781421586540, 384pp.
Publication Date: June 14, 2016
* Individual store prices may vary.
Description
The manga adaptation of the landmark animated series that changed the mecha genre. This volume contains two of the original graphic novels and includes pages of stunning, full-color art.

The Instrumentality Project comes to its apocalyptic conclusion. With the earth now covered in a sea of LCL, every human consciousness in the world has become one—a combined entity waiting to be reborn. Deep within Lilith, Shinji comes face-to-face with everything he ever knew, loved and feared. The fate of the world is in his hands, and the choice he makes will doom or redeem humanity. Everything ends here. Everything begins here. This is the epic finale of Neon Genesis Evangelion!
About the Author
Yoshiyuki Sadamoto, one of the founding members of the animation powerhouse Studio Gainax, is the character designer for THE WINGS OF HONNEAMISE, NADIA, NEON GENESIS EVANGELION the animated series, and many other anime, illustration and art projects. His latest art book, DER MOND, is also available in English translation from VIZ Media. NEON GENESIS EVANGELION is Sadamoto's only full-length manga series.