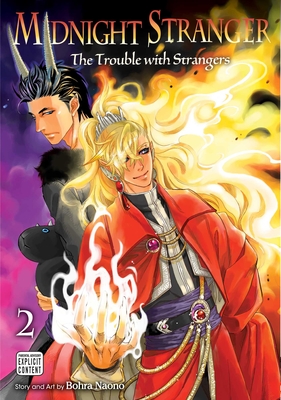 Midnight Stranger, Vol. 2
The Trouble with Strangers
Paperback

* Individual store prices may vary.
Description
Roi, a black goat spirit, is getting bullied when out of nowhere he's rescued by the beautiful fire god Xiu. Xiu gives Roi the ability to take human form, and a grateful Roi decides to serve Xiu as his new master.

Goat spirit Roi is in love with his master, the beautiful fire god Xiu. He knows he shouldn't have those kinds of feelings and so is shocked when Xiu suddenly tells Roi he feels the same for him. Roi hopes that their peaceful everyday existence will continue undisturbed, but then he gets attacked by a demon. Injured in a way that prevents him from maintaining his human form, Roi is forced to return to his ugly goat form. Unable to go back his master's side, what will Roi do?
SuBLime, 9781421588100, 194pp.
Publication Date: July 12, 2016
About the Author
Bohra Naono has created over 20 manga, some of which have been adapted into drama CDs. She has also published doujinshi (independent comics) under the pen name of "NAIFU." Three Wolves Mountain is Bohra Naono's second English-language release, with her first being Yokai's Hunger. A native of Oita, she is a Gemini with an A blood type who loves Chinese tea and is obsessed with the neighborhood yakiniku restaurant. To find out more about Bohra Naono, visit her website at
www.bnlyz.com
.