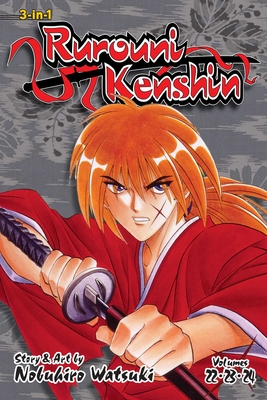 Rurouni Kenshin (3-in-1 Edition), Vol. 8 (Paperback)
Includes vols. 22, 23 & 24
VIZ Media LLC, 9781421592527, 600pp.
Publication Date: October 2, 2018
Other Editions of This Title:
Paperback (10/3/2017)
Paperback (4/4/2017)
Paperback (1/3/2017)
Paperback (7/3/2018)
Paperback (7/4/2017)
Paperback (4/3/2018)
Paperback (1/2/2018)
* Individual store prices may vary.
Description
The beloved landmark tale of a Meiji-era swordsman's quest for redemption.

Action, romance and historical intrigue help make Nobuhiro Watsuki's Rurouni Kenshin, the tale of a wandering swordsman set against the backdrop of the Meiji Restoration, one of the most popular manga titles of all time!

Under attack by an alliance of warriors with grudges against Kenshin, the dojo battles on three fronts at once. Sanosuke takes on weapons expert Inui Banjin and his indestructible gauntlets. Yahiko faces off against Otowa Hyōko, who specializes in the secret techniques of assassination. And Kenshin has a rematch with the puppet master Gein, who's invented a deadly new toy. All the while, Enishi, the architect of the attacks, watches the chaos from above…
About the Author
Rurouni Kenshin, which has found fans not only in Japan but around the world, first made its appearance in 1992 as an original short story in Weekly Shonen Jump Special. Later rewritten and published as a regular, continuing Jump series in 1994, Rurouni Kenshin ended serialization in 1999 but continued in popularity, as evidenced by the 2000 publication of Yahiko no Sakabatô (Yahiko's Reversed-Edge Sword) and the 2015 publication of Rurouni Kenshin: Restoration in Weekly Shonen Jump. The series has also inspired novels, anime and films. Watsuki is also the author of the popular series Buso Renkin, published by VIZ Media.