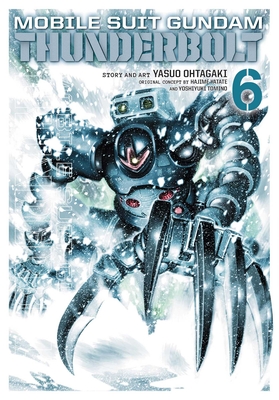 Mobile Suit Gundam Thunderbolt, Vol. 6 (Paperback)
VIZ Media LLC, 9781421593043, 236pp.
Publication Date: February 20, 2018
Other Editions of This Title:
Paperback (2/18/2020)
Paperback (8/20/2019)
Paperback (5/21/2019)
Paperback (8/21/2018)
Paperback (2/19/2019)
Paperback (11/15/2016)
Paperback (2/21/2017)
Paperback (5/15/2018)
Paperback (5/16/2017)
Paperback (7/21/2020)
* Individual store prices may vary.
Description
An epic story of war and survival set in the legendary Gundam universe!

In the Universal Century year 0079, the space colony known as Side 3 proclaims independence as the Principality of Zeon and declares war on the Earth Federation. One year later, they are locked in a fierce battle for the Thunderbolt Sector, an area of space scarred by the wreckage of destroyed colonies.

From the frozen wastes of Antarctica to the abyssal depths of the ocean, Operation Thunderbolt is under way. Io Fleming heads back into battle aboard the Federation MS carrier Spartan. While taking a perilous course through the Antarctic Ocean, Spartan is pursued by a Zeon submarine unit. Io takes the controls of the awesome new RX-78AL Atlas Gundam, but as always, it's not the machine but the pilot that makes the difference in the unforgiving crucible of combat.