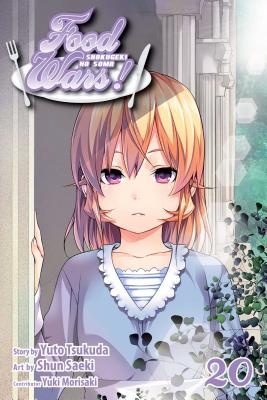 Food Wars! (Paperback)
Shokugeki no Soma, Vol. 20
VIZ Media LLC, 9781421594354, 192pp.
Publication Date: October 3, 2017
* Individual store prices may vary.
Description
An action-packed, saucy food comedy featuring one boy's determination to be top chef!

Soma Yukihira's old man runs a small family restaurant in the less savory end of town. Aiming to one day surpass his father's culinary prowess, Soma hones his skills day in and day out until one day, out of the blue, his father decides to enroll Soma in a classy culinary school! Can Soma really cut it in a place that prides itself on a 10 percent graduation rate? And can he convince the beautiful, domineering heiress of the school that he belongs there at all?!

Soma challenges Eishi Tsukasa for his first seat on the Council of Ten! Up against Tsukasa's delicately refined technique, Soma highlights his own creativity with a brand-new take on traditional French cuisine. Will he win that coveted seat or lose big and join Central? Even if he does win, Soma won't be out of the woods—not when the surviving first-years have just received notice of their biggest challenge yet!
About the Author
Yuto Tsukuda won the 34th Jump Juniketsu Newcomers' Manga Award for his one-shot story Kiba ni Naru. He made his Weekly Shonen Jump debut in 2010 with the series Shonen Shikku. His follow-up series, Food Wars!: Shokugeki no Soma, is his first English-language release.

Shun Saeki made his Jump NEXT! debut in 2011 with the one-shot story Kimi to Watashi no Renai Soudan. Food Wars!: Shokugeki no Soma is his first Shonen Jump series.